Travel Guide
---
The Travel Guide will contain everything you ever needed to know about travelling to Finland and making the best out of your trip! The guide contains a nutshell presentation of frequently asked traveling questions and an exhaustive amount of links to additional information sources.
---
Welcome to Finland
Welcome to Finland, the land of midnight sun, thousands of lakes and high technology!
If you are new to our country, you might want to visit a few general information sites first. For example Virtual Finland is a huge collection of information including maps and even a chance to learn few words of Finnish. Another site, Finnfacts, provides a more business oriented view of Finland.
The conference will be held in Otaniemi, Espoo. Espoo is the neighbor city to Helsinki, the capital of Finland, and Otaniemi is about 8 km from the Helsinki centre (Instructions on getting to Otaniemi).
The conference program is quite tight and you may want to consider booking an extra day or two to see more of Helsinki and the capital region. There's plenty of information available at the City of Helsinki-pages as well as the helsinki.fi-pages. You can also find a Virtual Helsinki, a 3-D model of the city! Espoo travel information can be found at Espoo Travel website.
Details about the conference venue and Otaniemi area, including maps, can be found in the Venue-pages. Street addresses especially for travelling by taxi, have been collected into a separate page.
At the airport
You will be arriving to the Helsinki-Vantaa International airport, about 20 km from the Helsinki centre. From their website you can find anything you need to know from flight schedules to busstop locations. Also Finnair, the Finnish airline company provides additional information such as flight schedules etc.
You can get to and from the airport by bus, airport taxi or taxi. The ride to Helsinki takes about 30-40 minutes depending on traffic.
Hotels
There will be at least two conference hotels, one in Otaniemi and another in the Helsinki centre. Details can be found at the registration pages.
Language issues
Whilst Finn's are very proficient in their own language, the majority of the population speak fluent English and often also Swedish and German. The official language for the conference is English.
Money matters
Like 12 other European Union countries, as of January 1st, 2002, the currency of Finland is Euro (EUR, €). You might want to check out the official exchange rates (Bank of Finland) or for example Yahoo's currency converter.
The shops, restaurants and hotels will most likely accept all major credit cards such as: Visa, MasterC ard, Diner's Club, American Express etc.
There are also plenty of ATM machines that you can use for withdrawing cash with your credit card. However, not all of the ATM machines are meant for cash withdrawals. The ones that are suitable for credit card withdrawals are marked with this sign: Otto.
You can also change Euros at any bank, Forex and in the conference hotels.
To give you an idea of the price range, here are some examples (these are only approximate average prices):
BigMac hamburger: 2,90 €
A cup of coffee: 1,25 €
Lunch: 8 €
Dinner: 16 €
1/2 l bottle of Coca-Cola (shop): 1 €
1/3 l bottle of beer (shop): 1,2 €
1/2 l pint of beer (restaurant): 4 €
1/2 l bottle of Koskenkorva (vodka, Note! strong alcoholic beverages are available only at Alko): 16 €
Pack of cigarrettes (20-pack): 4 €
Public transportation (inside Helsinki only) 2 €
Public transportation (capital area) 3 €
Taxi drive in Helsinki center area: 10 €
A music cd: 20 € (for latest releases)
In Finland, VAT (22%) is always included in the prices!
Tipping in restaurants is polite but not obligatory.
Time and Weather
The time in Finland is GMT+2. Please see for instance World Time Server for timezone comparisons and current time in Finland.
In Finland there are four distinct seasons. You will be arriving in summer, actually very close to midsummer. The chances are that it will be warm (+20 °C) and sunny, but check out the local weather forecast for more accurate information.
Note that in summertime it will be very light even during nights, even though the "midnight sun" effect is more powerful in the northern Finland.
Dress code
During daytime, you will do fine in shorts and T-shirt, but for the evenings you might want to pack also a thin jacket and jeans or something. These would also be suitable for the conference as well: we emphasize comfortability and informal dress code. By the way, getting your swimsuit with you is a good idea as well.
Public transportation
The easiest way to travel between Helsinki centre and the conference location is bus. There are several suitable busroutes, the easiest ones being 102 and 103.
You will need a regional ticket that costs 3 €. Please avoid big bills because the bus drivers have only limited amount of exchange money. Additional guidelines including detailed ticket prices can be found at YTV site.
Journey Planner helps you find suitable routes if you are interested in additional traveling in the capital region.
The Helsinki Card combines public transport, entrance fees to sights and museums and provides discounts and bonuses for a variety of leisure activities in Helsinki. 1-3 day cards are available at the airport as well as numerous locations in the Helsinki centre.
Electricity, phones and mobile phones
The electricity in Finland is 230 V (50 Hz). The socket is the same as in the continental EU countries. At least British and American participants need an adapter. Additional information about electrical and phone plugs and adapters as well as mobile phones can be found at www.kropla.com.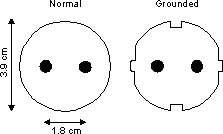 Visa
Finland is a member of the European Union and visas are not required for citizens of EU-countries and many other countries. A valid passport is required. Participants requiring a visa for entry to Finland are strongly advised to make their application in their home country at least three months before intended date of travel. For more information, please contact your nearest embassy or consulate of Finland or consult your travel agency.
Vaccinations
There are no vaccination requirements for any international travelers.
Eating and drinking
The conference will provide all food and some refreshment during the conference. This will include lunch and dinner with some intermediate snacks, breakfast will be available at your hotel.
It is safe to drink tap water anywhere in Finland. You don't have to buy bottled water unless you want to.
If you want to eat outside, the Helsinki centre is full of restaurants that meet all taste or price expectations.
Let your family and friends know that you have arrived safely3>
The conference provides a computer classroom that can be used for reading and sending emails.
Public phones are not so easy to find in Finland anymore, because 90% of the population has their own mobile phones. However, there is probably a public phone at your hotel.
Stamp prices are available at Finland Post.
---