Main
Extended Call for
Papers
Important Dates
Contact Info
Program
Authors' Guide
Travel Guide
Papers
Registering
---
Looking for AES17 templates? Click here
---
Templates
---
In order to maintain a similar layout in the proceedings and to avoid problems with printing, we have prepared a set of document templates. For maximum convergence, please follow the instructions in the templates carefully. In case you have difficulties with the template files or file formats, please refer to

PostScript version of the template or
PDF version of the template

and take a look at the size guidelines as well: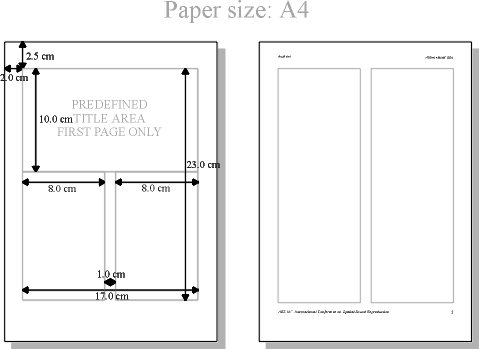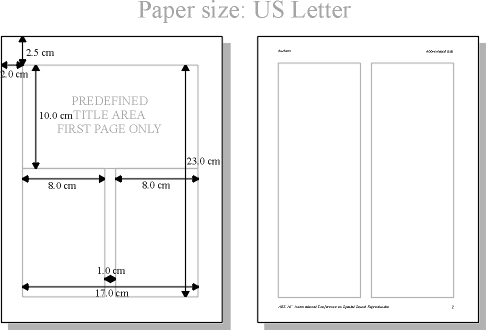 The document templates are now available in several formats:

All the template files can be found at http://www.acoustics.hut.fi/aes16/authors/template/.
Note!
It is possible that the templates look or print differently in different computers, operating systems or software versions. (There's no such thing as a bullet proof paper template :-)

Therefore: please compare your final paper with the example paper and pay attention especially with:
the first page predefined title area (10 cm down from the top margin)
the text area (top margin 2.5 cm, left margin 2 cm, text height 23 cm, column width 8 cm, space between columns 1 cm)
font size (Times-family, 10 pt) and line spacing
headers and footers (bottom of the header/footer 0.9-1 cm from the document body)