Main
Extended Call for
Papers
Important Dates
Contact Info
Program
Authors' Guide
Travel Guide
Papers
Registering
Thank You for visiting the AES 16th International conference on
spatial sound reproduction, which certainly was the
"Coolest Conference in Audio"!
---
The Conference Webcam Arhives are here! Check out the Onsite-section.
(Apr 16th, 1999)
---
---
In order to purchase AES16 Proceedings, please contact AES directly at www.aes.org. At least a limited amount of AES16 Proceedings was for sale at AES 106th Convention in Munich.
(Apr 29th, 1999)
---
Latest updates:
Conference Credits & Statistics (Apr 28th, 1999)
Onsite: The Conference Webcam Arhives (Apr 16th, 1999)
Updated Info on Flights to and from Rovaniemi (Mar 25th, 1999)
Authors' Guide: Instructions for Oral and Poster Presentations (Mar 10th, 1999)
List of Invited and Accepted Papers (w/ abstracts!) (Updated Mar 10th, 1999)
Register Now!: On-line registration has been opened! (Jan 20th, 1999)
Conference Program and Sessions (Dec 22th, 1998)
Travel Guide: Hotels: Pohjanhovi (Dec 14th, 1998)
Travel Guide: Hotels: Sky Hotel (Dec 14th, 1998)
Travel' Guide (Dec 10th, 1998)
Travel' Guide: Flights (Dec 2th, 1998)
Authors' Guide: Instructions and templates for preparing final papers (Nov 24th, 1998)

---
The conference was held in the exotic winter wonderland location of Rovaniemi, Finland during April 10-12 1999. Located at the Arctic circle at a latitude of 66° 33' North, this is the home of Santa Claus and his team in addition to the 3D sound and multichannel audio community for the duration of the conference.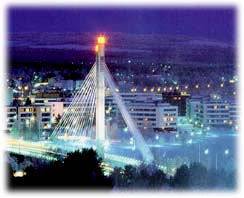 As a participant of the conference you can expect a packed technical and social program. The focus of the conference is on 3D sound and multichannel reproduction including developing technologies, test methodologies, discrete and virtual source methods, binaural and similar techniques. A total of 50 papers were presented at the event and in the proceedings, the details of which can be found in the paper's section. We were honored to have five Keynote speakers, who kicked off each of the paper sessions. A poster and demo session was held in the middle of the first day of the conference, allowing delegates to experience and discuss current and new technologies and visit the beautiful Alvar Aalto conference center.
A choice of three hotels is available for those who prefer either a city location or the opportunity to downhill ski from your door and a view over Lapland. Breakfast, lunch, snacks and dinners were provided (included in the conference fee) and also the exotic banquette, to be held at an unforgettable location. All participants received a copy of the conference proceedings.
The program will allow people to visit the town and locality on the Sunday afternoon, and optional walking tours and safari's will also be possible (more information on the registration page or on the travel page).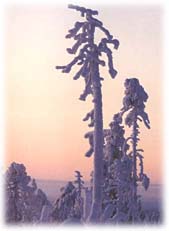 For more detailed information on the conference, please refer to our registration page. We look forward to seeing you in Lapland.
Further information on the conference content can be found on the program page. Assistance on travel issue may be found in our travel guide which provides you with detailed information on Finland, Rovaniemi and FAQ's. If you have any open question, please do not hesitate to contact us.
The conference organisers would like to thank the Sponsors for their contributions and support of this event.
---




---