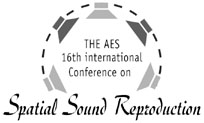 This page describes how to survive in at Rovaniemi during the AES 16th International Conference on Spatial Sound Reproduction.
We attempt to provide participants with important information to help you enjoy your stay in winter wonderland. It has been considered that participants will arrive by plane, but some basic information regarding other forms of transport are also included.
This page will be updated periodically, to ensure accuracy.
Note! Travel Guide contains many images so it might take some time to load. If you have problems with this, try turning off images from your browser's preferences. Also note that the Travel Guide contains an extensive amount of links to further information!